In a Nutshell
Surfshark Antivirus is part of the Surfshark One bundle, which includes a VPN, an Alert feature, and a safe online search tool. The antivirus program is only available on Windows and Android platforms. It works on unlimited devices and can scan your devices to remove viruses and malware. You must pay an additional fee to get the antivirus package included in your Surfshark subscription, and pricing plans come with a 30-day money-back guarantee.
pros
Scan and remove viruses and malware
Quick, Full, Exclude, and Scheduled scans
Extra bundled security and privacy features
cons
Payment required to use the software
No real-time protection on Windows

Surfshark Visit Site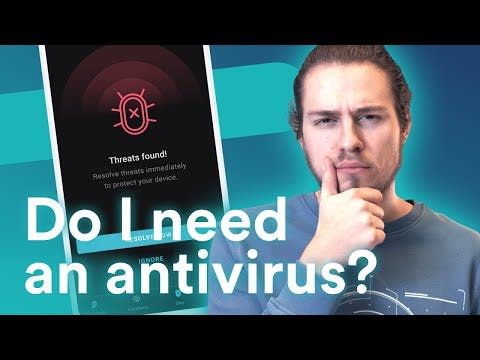 Highlights
Features: Scanning and device protection tools
Ease of Use: Easy for beginners
Reliability: Above average
Value: Above Average
Money-Back Guarantee: 30-day paid subscription
Best For
Users who want to scan and remove harmful files, apps, and programs
Users who wish to block intrusive apps
Users who need to guard their privacy while using an Android device
Why Choose Surfshark?
Surfshark Antivirus is an affordable solution for protecting your devices from malware, intrusive apps, harmful programs and files, and viruses. It enables you to access the internet safely and privately, scanning your devices to remove potential threats. It is one of the four features of the Surfshark One bundle, meaning you also get a VPN, Safe Search feature, and real-time alerts for data breaches.
The bundled features in Surfshark One give the Surfshark Antivirus a real advantage over other antivirus programs. The Virtual Private Network (VPN) feature enables you to hide or fake your location, protecting your data and privacy, whereas the Search feature hides your details from search engines while delivering organic search results. Finally, you'll receive a notification if your data is compromised or leaked online.
What Surfshark Offers
Surfshark Antivirus offers scanning and virus protection solutions for Windows and Android devices. You can use a single account to manage an unlimited number of devices. Combined with other features from Surfshark One, the Surfshark Antivirus keeps you safe when connected to unprotected WiFi networks. Other top features on offer from the Surfshark One bundle include the following.
Blocking ads and malware attacks
Confidential searches to prevent tracking and to get organic results
Identity protection and alerts on personal data leaks
Email account protection

Features
Scanning for malware and viruses
Surfshark Antivirus can perform a variety of scans on your devices to uncover viruses, malware, and harmful programs and files. If you're in a hurry, the Quick Scan feature searches for common hiding places for viruses. The Full Scan feature is useful for a deeper analysis of your entire system. Once completed, a pop-up will show the number of files scanned and the duration.
Two additional scan settings can be found on the dashboard: Scheduled Scan and Exclude Scan. Scheduled Scan enables you to set a time to automatically check your device for threats, or you can choose to initiate the scans manually. Exclude Scan selects specific files or folders you would like the scanner to ignore.
Real-time protection
Surfshark Antivirus provides real-time protection for your Android device. The feature is not yet available on Windows, but the company says it will add it "soon." Real-time protection works by continuously scanning and protecting vulnerable areas of your device. It maintains your privacy and security when opening, downloading or installing files and programs.
Virus database and harmful file removal
Online threats are constantly emerging and evolving, and it is vital to keep up with the latest information to protect yourself. Surfshark Antivirus updates its Virus Database often to enable it to detect new threats. Once the virus scanner shows you the list of detected threats, the company recommends you take immediate action and remove the harmful files as indicated by your Surfshark Antivirus app.
Browsing security and privacy through the VPN
Surfshark One provides a VPN alongside the Surfshark Antivirus, and it contains some helpful device protection features. Surfshark VPN gives you access to geo-blocked or restricted content worldwide and enables you to stream content safely without being tracked or pop-up ads exposing you to cyber threats. With its Clean Web feature, you can block ads and malware that could expose your devices to hacks or ransomware risks.
Surfshark VPN secures your data and privacy on unprotected WiFi networks when traveling or in public. It encrypts your information using AES-256 encryption to prevent hackers from injecting malware into your device or snooping and stealing your data in transit. Moreover, it hides your IP address and uses a multi-hop feature—whereby the network will bounce traffic from one VPN server to another—to give you extra anonymity and block companies from tracking your location.
Safe Search and Surfshark Alert
The remaining features from the Surfshark One bundle include Safe Search and Alert. Surfshark Safe Search is a browser page available through your logged-in Surfshark account, which provides an incognito mode to search the web anonymously and block tracking and targeted ads. The search feature provides authentic, organic, and unbiased results rather than the personalized ones that might skew your search results.
Surfshark Alert notifies you when your information gets leaked online and encourages you to change vulnerable passwords to guard against breaches. Surfshark One prevents cybercriminals from compromising your email accounts and sends quarterly personal data security reports.
Ease of Use
Surfshark One software displays all the menus needed to access the antivirus, VPN, alert, or search features. You can log in to your Surfshark account on a browser to manage connected devices, download apps and extensions for different platforms, and edit settings. Two-factor authentication (2FA) is easy to set up. It protects your Surfshark account using the Google or Duo Mobile authenticators—downloadable online—to generate codes to access your account.
Surfshark Antivirus has a simple interface that's very straightforward to use on Windows and Android. The antivirus is available on the Surfshark One menu labeled Antivirus and available on Android by selecting the One tab.
Detection Rates and Reliability
Surfshark Antivirus uses few computer resources and operates seamlessly in the background. The virus detection engine can detect malware, Trojans, and worms, and its virus database is updated as Surfshark obtains new information about the latest online threats.

Pricing
Surfshark One is available for an extra $1.49 per month on top of the regular Surfshark monthly, yearly, and 2-year subscription plans, plus additional taxes depending on your location
$14.44 per month
Billed $14.44 every month until you cancel
$5.48 per month
*Billed $65.76 now, then $77.64 every 12 months
$3.98 per month
*Billed $95.52 until you cancel
*Billed annually after 24 months
Value for Money
Surfshark Antivirus is a simple and inexpensive solution for protecting your devices from viruses and malware. The antivirus is part of a bundled feature set on Surfshark One that rivals competitors' offerings with the many tools included. Subscriptions come with a 30-day money-back guarantee if you want to try out the software. You can also get a refund if you purchase the software again after 6 months and cancel your subscription before 30 days expire.
Help and Support
Surfshark's customer support is available 24/7 by online chat. You can visit its knowledge base or send them an email as well. Typically, it takes the company less than a day to respond to emails, but an automated message will direct you to the knowledge base to search for answers. The company is also available on social media, or you can fill out the online form and wait for a response.

Surfshark Visit Site
Bottom Line
Surfshark Antivirus is an affordable, easy-to-use software, bundled with Surfshark One's additional features to protect your identity, data, devices, and online browsing activities. The antivirus program can scan your device and protect you from viruses, Trojans and malware, while the Surfshark VPN offers access to geolocked content while guarding against ads and malware.
About Surfshark
Surfshark launched its suite of applications and features for various platforms in 2018 and moved its servers to 100% RAM-only in 2020. It is a member of VPN Trust Initiative, Electronic Frontier Foundation, Internet Society, and Access Now. Surfshark One and its antivirus features were launched in September 2021.