In a Nutshell
Aura's combined antivirus and VPN plan provides protection for your device and Wi-Fi network along with 24/7 expert support for as little as $18 per year. Its all-in-one plans offer additional protection such as $1 million identity theft insurance, online account monitoring, and social security number monitoring. Aura offers all its antivirus and VPN features in one easy app for Windows and MacOS (with VPN also available for Android and iOS).
pros
Choice of antivirus + VPN or full protection
24/7/365 expert support
cons
Mobile app doesn't include antivirus features (yet)
Multiple pricing plans are a little confusing

Aura Visit Site
Highlights
Features: Full featured protection

Ease of Use: Easy for users

Reliability: Above average

Value: Just above average

Money Back Guarantee: 60 days (with annual plans)
Best For
Antivirus, secure VPN and ID theft protection in one plan

Protecting lots of connected devices

Trying out service with long free trial and money-back guarantee
Why Choose Aura
Aura's tiered pricing model gives you the choice of using antivirus and VPN only or getting additional protection against threats like ID theft and financial fraud.
What Aura Offers
Antivirus and malware protection

Secure VPN

$1 million identity theft insurance

Online account monitoring

SSN monitoring

Password monitoring

Credit monitoring

24/7 customer support

White glove fraud resolution (premium plans)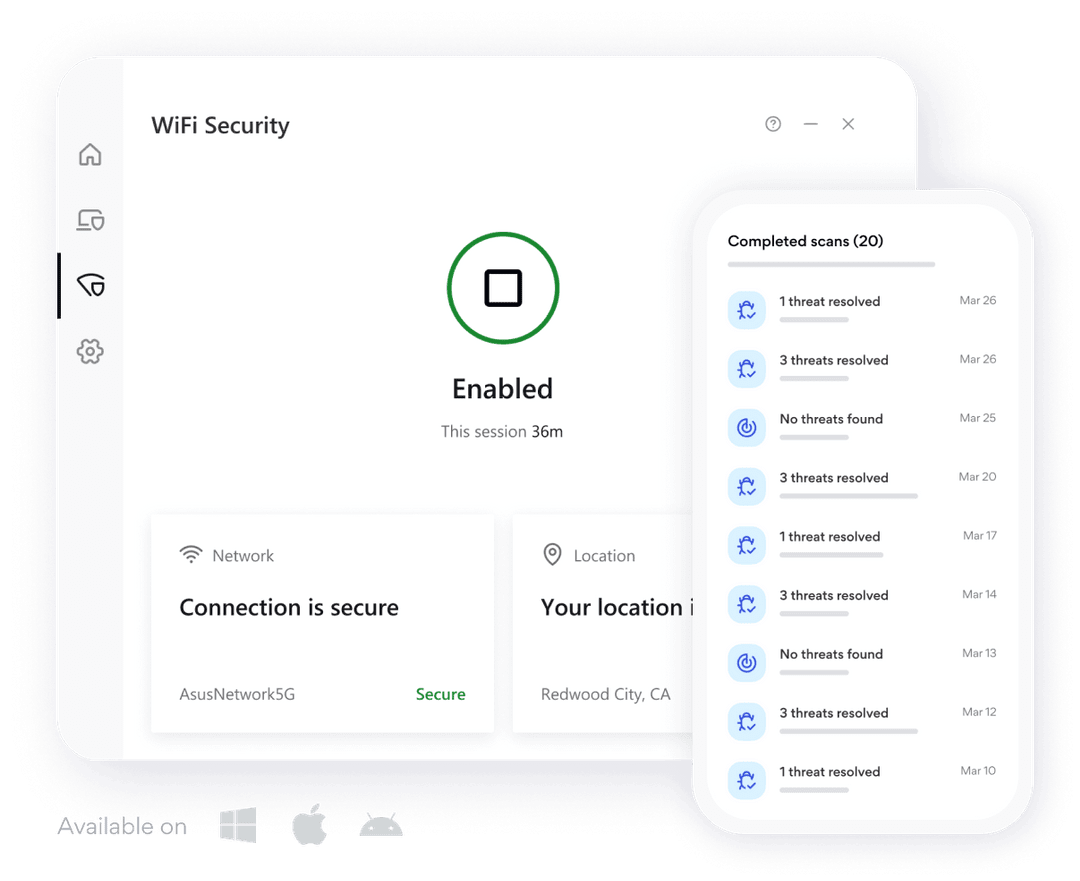 Features
Aura's Antivirus plans offer antivirus and VPN protection only. Aura's antivirus software detects and isolates viruses, ransomware, trojans, and other types of malware to secure your devices and data. The VPN secures your Wi-Fi connection with military-grade encryption, keeping your activity hidden from cyber criminals and hackers. Furthermore, it stops you from entering potential scam or phishing sites that can steal your personal or financial information.
Aura's All-in-One Protection plans offer antivirus, VPN protection, and a range of additional features. These include: $1 million insurance coverage to cover eligible losses and fees due to identity theft; notification if your online accounts have been compromised; notification if your registered accounts (e.g. SSN, passport) have been compromised; password storage in one convenient place; and 3-bureau credit monitoring.
Ease of Use
Aura's Windows and macOS desktop apps offer antivirus and VPN. The Android and iOS apps only include VPN (although antivirus will soon be available on Android). These apps comprise user-friendly dashboards where you can take actions (e.g. do a malware scan, connect to a secure VPN) and see critical data (e.g. threats resolved in recent scans, your connected networks).
When you sign up to an All-in-One plan, ID theft protection and financial fraud protection work in the background while you go about your daily business. If Aura detects a problem (e.g. your SSN has been used for a high-risk activity such as taking out a payday loan, or your ID is found for sale on the dark web), you'll receive instant notification.
Pricing
Antivirus + VPN + Basic ID Theft Protection
Antivirus + VPN + Basic ID Theft Protection + Financial Fraud Protection
Antivirus + VPN + Basic ID Theft Protection + Financial Fraud Protection + White Glove Resolution
The Antivirus plans offer full antivirus and VPN features. The only difference between the two plans is the number of devices: the cheaper Antivirus plan provides protection for up to five devices, while the Antivirus Family plan covers up to 10 devices.
The All-in-One plans offer additional protection. Basic includes online account monitoring, personal information and SSN monitoring, $1 million ID theft insurance coverage, lost wallet remediation, and password monitoring. Total throws in 3-bureau credit monitoring, a monthly credit score update, and bank account monitoring. Ultimate throws in home title and address monitoring, criminal and court records monitoring, 401k and investment account monitoring, 3-bureau annual credit report, and white-glove fraud resolution.
Value for Money
At $1.50-$2.50 per month ($18-$30 per year) for a combined antivirus and secure VPN solution, Aura provides good value for money. The Basic All-in-One plan is also well priced for what you get, although the Total and Ultimate plans are a little on the expensive side despite the wide range of features included.
Help and Support
Aura's customer support team is available 24/7 via phone or email to deal with technical or billing-related issues. Premium users get white-glove fraud resolution from a U.S.-based team of expert case managers. The Aura website has an extensive FAQ section with answers to frequently asked questions about its device and network protection, family protection, credit and fraud protection, and identity theft protection services.

Aura Visit Site
Bottom Line
If you're looking for a functional antivirus and VPN solution that gives you full protection for your devices and network, then Aura is a good option. Aura doesn't offer thousands of servers like other VPN providers, but that's the point. It exists to provide security at a low monthly price without bombarding you with other features you don't want – and at $18 to $30 per month for a combined antivirus/VPN solution, it's a great value proposition.
About Aura
Aura is a mission-driven technology company dedicated to creating a safer internet for everyone. We believe that people should be able to live with the peace of mind that their identity, online accounts and devices will remain safe, private and protected, no matter where they go. With an easy to use, integrated suite of services trusted by more than one million customers, Aura makes all-in-one digital security accessible to all.