In a Nutshell
Avast is a capable antivirus and digital security platform. I found the software easy to use, and I especially appreciated the variety of virus-scanning options. It also scores highly in antivirus performance tests. Avast's full security suite includes antivirus software, a VPN, a password manager, security alerts, and performance tools. It can be used to protect up to 30 devices, making it a great choice for families and small businesses.
pros
Multiple antivirus scan options
Free antivirus software includes a firewall
Protects up to 30 devices
cons
Free antivirus software runs a superficial scan only

Avast Visit site
Highlights
Features: Comprehensive protection

Ease of Use: Very easy to use

Reliability: Above average

Value: Above average

Money Back Guarantee: 30 days
Best For
Comprehensive digital protection including antivirus software, a VPN, and password manager

Free antivirus software with firewall

Protection while connecting to public WiFi networks
Why Choose Avast
Avast's free antivirus software can detect all of the same malware as its premium antivirus software. It also includes a firewall, which isn't the case for many free antivirus platforms. The premium antivirus software adds tons of ways to customize your antivirus scans and protects up to 10 devices. So, Avast works well for protecting an entire family.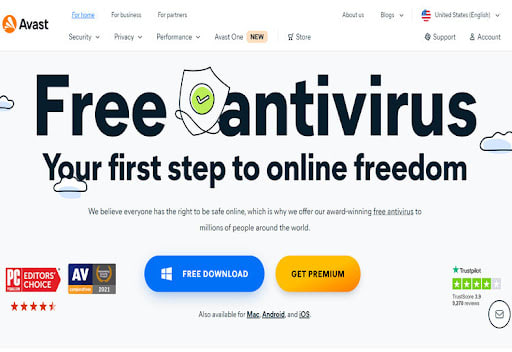 Avast One offers even more ways to protect your devices. It includes a VPN, password manager, and device performance tools alongside Avast's premium antivirus software. All of these tools are easy to use, so it's simple to secure your devices. You can be confident that you're protected against the vast majority of digital threats when using Avast One.
What Avast Offers
Avast offers a wide range of digital security tools, including antivirus software, a VPN, a secure browser, a disk cleaner, and a password manager. All of these tools work together to defend you against threats like malware and data leaks. Avast can provide alerts if your information is leaked on the Dark Web, prevent you from connecting to spoofed websites, and help you eliminate any malware that makes it onto your devices.
Avast works on Mac and Windows computers and iOS and Android smartphones. It can be used on up to 30 devices, depending on your plan.
Antivirus software with firewall and multiple virus-scanning options

VPN with 55 server locations

Protection from scam emails and spoofed websites

WiFi network scanning

Dark Web scanning to identify leaked passwords

Secure browser with password manager

Disk cleanup tool
Features
Avast offers a number of important security tools. I'll explain what each offers and why Avast's tools stand out.
Antivirus software
Avast offers both free and premium antivirus software. Both include a firewall, and they use the same database of known malware to detect threats. However, the free antivirus software only runs a "Smart Scan". This is a superficial scan that checks the most common places where malware hides. It does not completely scan your system for malware.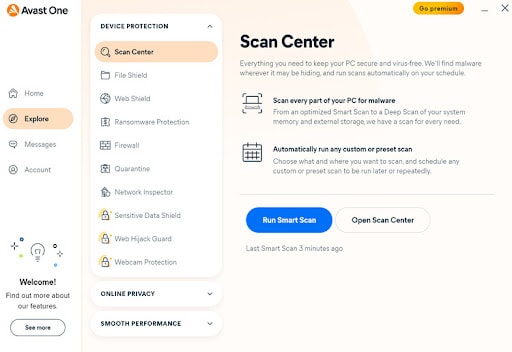 The advantage of its premium antivirus software is that it offers a wide range of scanning options. You can run a full scan of your device, including all of your computer's drives and files. You can also run a custom scan of specific drives or folders and a boot-up scan that checks for malware deeply rooted in your system.
VPN
Avast's no-log VPN secures your internet connection by establishing an encrypted tunnel between your device and the websites you're accessing. It protects your identity from malicious actors and advertisers while you browse. The VPN includes access to 55 servers around the world and has an IP kill switch that automatically shuts down your connection if data is leaked through the encrypted tunnel.
The VPN is available for free (up to 5GB per week), as a stand-alone product, or through Avast One.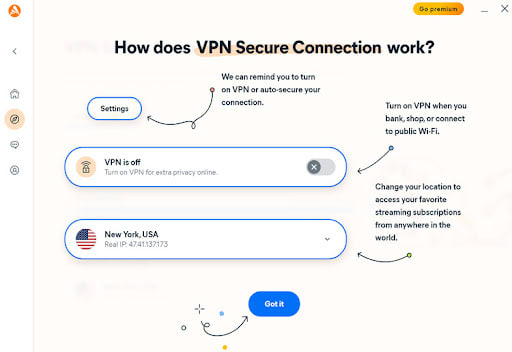 Secure browser
Avast's secure browser automatically blocks spoofed and malicious websites to prevent you from downloading malware. It also forces websites to use encryption when you connect and blocks third-party trackers. The browser also offers "Bank Mode," which automatically hides sensitive data like credit card information when you shop online.
Password manager
Avast offers a simple password manager to help you create stronger passwords and keep them safe. The password manager is available as a browser extension, making it easy to log into your online accounts. With a premium Avast One subscription, the platform will also alert you if your passwords are compromised in a data breach.
Disk cleaner
Avast's performance optimization tool can help clean up your device by removing unused programs, putting apps to sleep, and keeping your drivers up to date. It can also remove browser cookies, clean up disk registries, and defragment your hard drive.
Ease of Use
Avast's pricing structure can be a little confusing since there are so many different tools. Most of them have free and premium versions, and the premium versions can be purchased on their own or as part of different packages.
However, once you purchase the Avast tools you need, the platform is impressively easy to use. All of Avast's features can be managed from a single software interface. There are tabs for antivirus scanning, the VPN, the firewall, network scanning, and more. Device protection tools, online privacy tools, and device performance tools are grouped, making it easy to find the features you need quickly.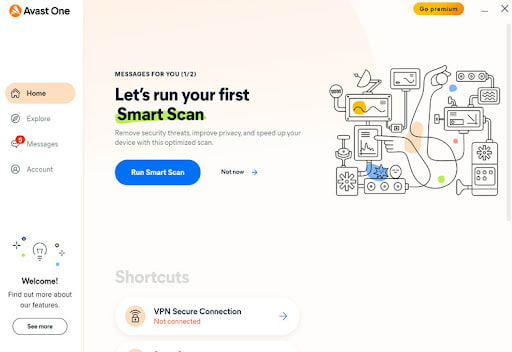 The antivirus page is also well laid out. It only took one click and around 30 seconds to run a Smart Scan on my Windows computer. Other scanning options are clearly displayed. Clicking on any of them enables you to customize the settings and quickly run them.
Detection Rates and Reliability
Avast has received top scores for protection, performance, and usability by AV-Test, an independent antivirus testing service. In those tests, Avast identified and eliminated all the planted malware on both Windows and Mac computers and did not generate any false positive results.
In my own testing with Avast, I found that the Smart Scan didn't find any malware, but it did identify more than 10GB of junk files to clean up. The scan used around 75% of my computer's CPU power and took 34 seconds to run.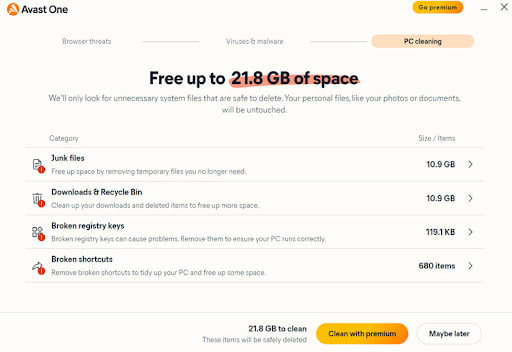 Pricing
There are several ways to get Avast's antivirus software. You can purchase the antivirus software on its own (Avast Premium Security) or with Avast One, a comprehensive security suite that includes Avast antivirus software. There are also free versions of Avast's stand-alone antivirus software and Avast One.
Avast offers discounted pricing for your first year. Avast Premium Security costs $5.79 per month for the first year, and Avast One costs $4.19 per month for the first year.
Value for Money
I think Avast provides excellent value for your money. The free antivirus software includes a firewall, which isn't the case for most free antivirus programs. Avast Premium Security offers more advanced antivirus scans and costs just $8.33 per month for up to 10 devices.
For families and small businesses, the Avast One plan packs a lot of value. You can protect up to 30 devices for just $11.67 per month. This suite includes all of Avast's premium tools, such as its antivirus software, VPN, password manager, and more.
Help and Support
Avast offers 24/7 customer support by phone and online form. I called and got in touch with an agent right away, who helpfully walked me through how to run an antivirus scan using Avast One.
Avast's website also includes a rich online knowledge base. You'll find detailed tutorials, FAQs, and online guides to help you get started.
Phone: (844) 973-3072

Avast Visit Site
Bottom Line
Avast antivirus software does an excellent job protecting your computer against malware. It has received the highest possible scores in independent tests by AV-Test. Based on my experience, it's very easy to use and doesn't significantly slow down your computer. The free version offers fewer scan options, but it comes with a firewall.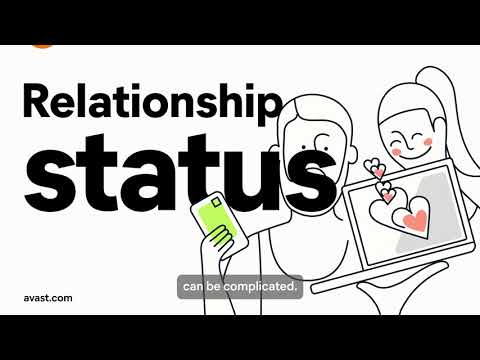 Avast One, the company's all-in-one digital security suite, includes additional tools like a VPN, secure browser, password manager, and disk cleaner. It can protect up to 30 devices at an impressively low price, making it a suitable option for families and small businesses. Overall, I'd recommend Avast for anyone in need of reliable and robust security software for their devices.
About Avast
Avast is a cybersecurity company founded in 1988 in the Czech Republic. The company's software products have more than 435 million active users.
Avast acquired a competing antivirus software provider, AVG, in 2016. The company admitted in 2020 to selling users' browsing data to third-party services but has since ended that practice. In 2022, Avast merged with NortonLifeLock in a deal worth $8.1 billion. Avast products continue to be sold separately as software from either AVG or NortonLifeLock.