In a Nutshell
With an arsenal of virus, trojan, adware, spyware and malware protection tools, TotalAV is an easy to use antivirus software package that definitely holds its own against the top names in the industry. The software can be used on desktop and mobile devices - both Android and iOS - and comes in three separate pricing categories depending on the features you're looking for.
pros
Advanced antivirus and malware protection
Resolves system speed issues
Identifies and deletes duplicate files
cons
Lack of results from third party labs

TotalAV Visit Site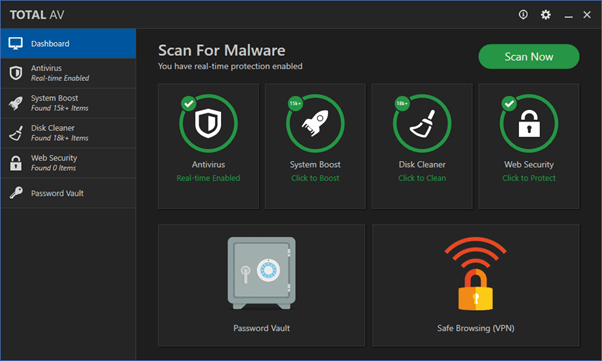 Highlights and Features
For PC, Mac, Android, and iOS devices
24/7 "priority super fast support"
30-day money-back guarantee
Remote firewall protection
Safe site browser extension
Web browser clean and manager
Computer performance enhancement tools
Virtual Private Network (paid feature)
In addition, TotalAV has a whole suite of tools to boost your system's performance and make your device run faster. These include the ability to scan for and remove duplicate files and an enhanced performance feature that identifies and fixes speed-related issues.
Additional features include parental controls, file backup capabilities, and enhanced firewall protection. It also works on most major platforms and devices - PC, Mac, iOS, and Android.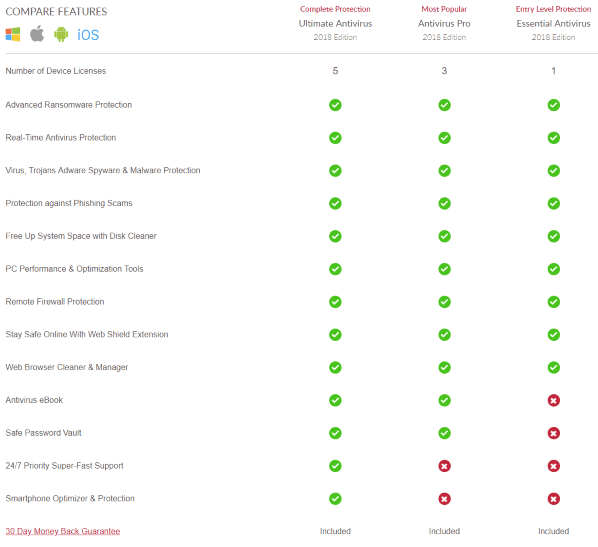 Pricing
Performance
TotalAV has been in the market for a few years and has made a name for itself, building a solid track record that proves its effectiveness.
The software has scored high marks for its ability to track and remove malware, ransomware, viruses, and other threats, and is known for having an easy-to-use interface that doesn't slow down your computer or require any sort of expertise to operate.
Also, because Total AV has tools that clean up your computer and gets things running quicker and smoother, your overall performance improves across the board.
Ease Of Use
You don't need any prior experience to use TotalAV, so if you're a bit intimidated about setting up an antivirus program, you can rest easy.
Download and installation are a breeze; and the software is designed to work right out of the box. All the features are readily accessible via a centralized dashboard that's clean, intuitive, and very simple to use.
As a bonus, you'll also get some really nice-looking graphs with data about your performance before and after you run specific tools.

TotalAV Visit Site
Customer Support
TotalAV refers to their support system as "24/7 super fast support," and while response times may vary, the company does run a 24 hour live chat on its website. You can also send an email and get an answer 24/7.
If any of that isn't enough, you can also reach the company by toll free number. That said, the toll free number is mainly just for billing issues.
TotalAV's website also has a growing knowledge-base that covers a wide variety of topics - from general questions to installation and troubleshooting guides. All the articles are written in very simple language and the information is actionable and very easy to understand.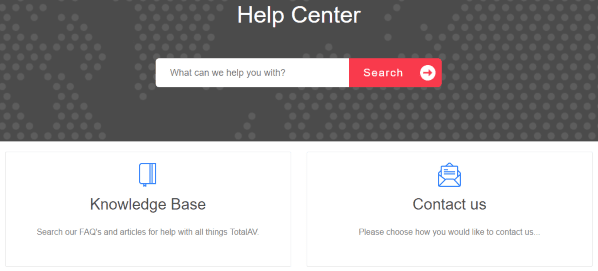 Bottom Line
TotalAV provides users with a comprehensive defense system to protect their computer and mobile devices from the full gamut of cyber threats. The software is easy to install and use, and with a 30-day money back guarantee and very reliable customer service, trying out TotalAV is about as risk free as it gets.