In a Nutshell
NordVPN Threat Protection is an internet security tool available on macOS and Windows. A lighter version of antivirus software, NordVPN Threat Protection adds an extra layer to your online security by blocking malicious websites and adverts, stopping web trackers from gathering information about your internet browsing habits, and protecting your device from downloaded malware.
pros
Protects against common online threats
Won't slow down your computer
Easy to use
cons
Threat Protection is not a fully-featured antivirus product
The paid-monthly subscription option is a little expensive

Nord Visit Site
Highlights
Features: Blocks malware, malicious adverts, and web trackers.

Ease of use: Extremely easy–just one click to enable

Reliability: Average

Value: Average

Money-back guarantee: 30-day
Best For
VPN users who already have a NordVPN subscription

Anyone looking for additional online security but who doesn't need a full antivirus package

People who don't want any hassle configuring their security tools
Why Choose NordVPN Threat Protection
Nord Security has long established its reputation as one of the main players in the VPN market, often gaining great reviews for its NordVPN service. If you already use NordVPN, you already have access to Threat Protection bundled into the subscription.
If you don't use NordVPN, there are still reasons to choose Threat Protection. For example, if you're not confident in spotting phishing attempts, Threat Protection will warn you if you click on a potentially malicious site. If you're running a business, there is always the risk and cost of losing client data through a data breach or losing access to your work files through ransomware. The additional security that Threat Protection provides alongside your regular antivirus software helps to mitigate that risk.
The main reason to consider Threat Protection—to minimize the chances of you picking up malware or falling prey to an online scam—is to give you that little bit extra peace of mind.
What NordVPN Threat Protection Offers
NordVPN Threat Protection offers an internet security tool that can run alongside your main antivirus software, providing an additional level of protection from viruses, malware, adverts, and phishing attempts. Note that it doesn't routinely scan your computer's entire hard drive or monitor processes for suspicious behaviour, so it isn't a comprehensive antivirus suite. However, it won't slow down your computer.
Your Threat Protection subscription will:
Protect up to six devices

Work on both macOS and Windows

Give you access to 24/7 customer support

Come with a 30-day money-back guarantee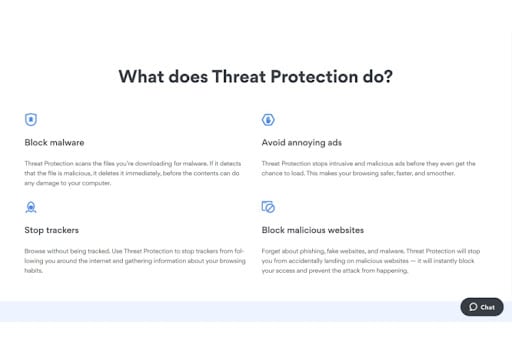 Features
Nord's Threat Protection provides four main features:
Blocks intrusive and malicious adverts

Stops you from accessing fake websites, such as those used during phishing attempts

Prevents web trackers from gathering information about your browsing habits

Blocks malware and protects your device from infected files
Threat Protection offers two levels of security, full and lite. The lite version uses DNS filtering to prevent your browser from visiting websites known for hosting malicious content and intrusive adverts. However, it doesn't stop web trackers or scan your downloads for malware.
The full level of protection uses the same DNS filtering to block malicious websites and adverts, but the tool also promises to block web trackers and scan a selection of downloaded files for malware. While Threat Protection automatically scans the files you download from the internet, it doesn't perform a deep scan on all file types. So without a comprehensive malware scan, you're not getting the same level of protection as you would with more fully featured antivirus software.
Ease of Use
Threat Protection is simple to use. The software is quick to install and doesn't require you to work through any complex configurations. Once installed, all you need to do is toggle the Enable/Disable switch. You can then turn on either the full or the lite version. If you already have antivirus software installed on your computer, you'll probably find that enabling the lite features is sufficient for your needs.
Firefox users enabling the full version of Threat Protection will need to restart their browsers because the software needs to install a security certificate into the browser. While this presents no technical issue, those who are particularly privacy and security conscious should note that installing the certificates hands significant control of data in the browser over to NordVPN.
For NordVPN users, you'll find the Threat Protection options when clicking on the shield within the app. Activating and using Threat Protection is then identical to the standalone app.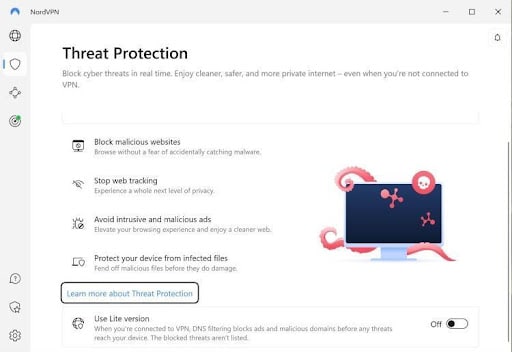 Detection Rates and Reliability
Threat Protection is not a true antivirus package and won't be able to detect certain types of attack vectors used to hijack computers remotely or steal personal information. Threat Protection scans executable files but does not complete a deep scan on documents which may contain personal information, for example, PDFs, images, and Office documents. Word and Excel documents, for example, can contain malicious macros which may not be detected at all.
Another risk would be if you were browsing the internet and downloading files using Chrome's Incognito mode on macOS. Threat Protection doesn't scan these files because it cannot determine whether they were downloaded from the internet. The Nord Security team is aware of this problem and this particular issue may be resolved in a future update.
While Threat Protection doesn't offer the same comprehensive levels of scanning and security as fully-loaded antivirus software, its privacy features are effective. It blocks web trackers and does a reasonable job of blocking malicious adverts and websites. The internet-specific features it provides can make it a useful second level of security alongside your usual antivirus.
Pricing
NordVPN Threat Protection is available as a standalone product. There isn't any tiered service or bolt-ons, so you simply need to choose whether you would prefer to pay annually or monthly.
Value for Money
For the level of protection on offer, the monthly subscription looks expensive, especially if you can afford to pay annually. For comparison, Nord's VPN subscription, which includes Threat Protection, can be picked up for as little as $4.49 per month when billed annually. The same logic applies to the annual subscription option. I'd be more inclined to pay the extra and pick up the additional VPN features.
NordVPN's Threat Protection looks like good value for money for those already using free antivirus software, such as the inbuilt Microsoft Defender Antivirus in Windows, but who still want an additional layer of security when browsing the web.
Help and Support
You can reach NordVPN via email on support@nordvpn.com. Nord also provides 24/7 support for their products through live web chat. This is accessible through the NordVPN website by clicking the message icon in the bottom right-hand corner.
However, clicking this icon provides an inconsistent experience. Depending on which NordVPN page you are on, you'll find yourself connected to either a NordVPN chatbot, an FAQ knowledge base, or a customer support form. Completing the support form will connect you to a live web chat.
Overall, my experience with customer support was good, with the person on the other end taking the time to double-check answers to some technical questions I had about the service.

Nord Visit Site
Bottom Line
NordVPN Threat Protection offers some additional security when browsing the internet. It blocks malware, stops intrusive and malicious adverts from loading, and protects you from being tracked across different sites. While it isn't a fully-featured antivirus, and shouldn't be compared to one, it can be a valuable addition to your computer security setup.
If you already have a VPN subscription with NordVPN, you get Threat Protection included as standard. To read more about the VPN features, check out our NordVPN review.
About Nord Security
Nord Security provides VPN and internet security software under the jurisdiction of Panama. This means Nord Security is not subject to data retention laws or legally obliged to hand over data to intelligence agencies such as the Five Eyes or Fourteen Eyes intelligence-sharing alliances. This therefore makes the company a good choice for privacy-conscious users. NordVPN was released in 2012, with Threat Protection released as a standalone product in 2022.